Oberlin College and Conservatory
Class of 1968
In Memory
Edmund (Ted) Stiles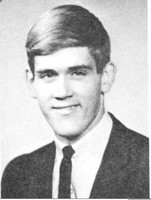 Deceased Classmate: Edmund "Ted" Stiles
Date Of Birth: 12-21-1945
Date Deceased: 3-7-2007
Age at Death: 61
Cause of Death: Cancer
Classmate City: Hopewell
Classmate State: NJ
Classmate Country: USA
Was a Veteran: No
Survived By: Ben and Kaelyn-Children with Nancy Brown Stiles Second Wife Michele Byers Stiles Siblings: William Stiles; Judy Cook; Joan Bell

Ted was a revered and honored ornithologist and protector of open lands. He knew the songs and the flight patterns of birds and went around the world himself and with graduate students to study them and their habitats. He taught them even more about life itself and the bounty of love he found in it. He was a talented musician and singer and often entertained friends and family with his ditties and animal calls. Many will recall his performances with G&S at Oberlin. His second wife Michele wrote in a column following his death, "A perfect day for Ted would be spent listening to bird calls while picking Pine Barrens blueberries, hiking along old railroad ties in search of snakes, then capping off the day over a hot stove making blueberry jam." He knew that he wanted to be a biologist since the fifth grade. Read into the Congressional record, remarks by Rep. Rush Holt of New Jersey's 12 District were remarks stating Ted had an uncanny ability to make people--landowners, scientists, students, board members, and average citizens want to do things to benefit the general good.